SCREEN FOR CARDIOVASCULAR DISEASES TODAY!
To reduce the risk of sudden death

To diagnose heart arrythmia

To find out more about your heart functions
Do not wait if you have symptoms such as: chest pain, heart palpitation, vertigo, dizziness, fainting or have a family history of cardiovascular diseases, etc.
Sudden death is the most frightening risk of Cardiovascular diseases (CVDs).
CVDs are more likely to develop in people who get more of risk factors such as: obesity, hypertension, diabetes, dyslipidemia; or people who has unhealthy lifestyle including: smoking, excessive alcohol consumption, sedentary, stressful,... In addition, genetic factor contributes to specific heart diseases such as: heart arrhythmia, cardiomyopathy, etc.
Early diagnosis and timely treatment those risk factors helps to prevent dangerous cardiovascular diseases: carotid artery disease (leads to poor blood circulation making ischemic heart disease, brain or leg ischemia, heart arrhythmia, cardiomyopathy, ect.)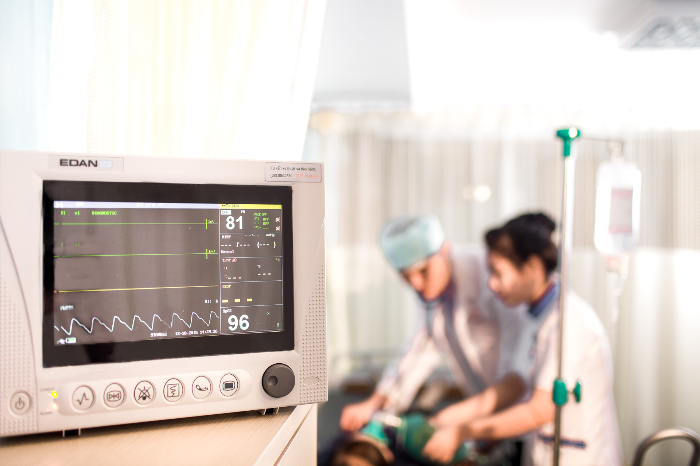 We carry out diagnostics and treatment for major chronic illnesses such as:​
Valvular heart disease

Hypertension (High Blood Pressure)

Arrhythmias

Atrial fibrillation

Heart failure

Coronary Artery Disease (Myocardial Ischemia)

Congenital Heart Disease
In addition, our cardiologists are experts in stent management & advisory, as well as medication management for a wide range of chronic cardiovascular diseases. We customize your medication to your unique needs and circumstances in order to maximize effectiveness and minimize the use of unnecessary medication.
Our comprehensive equipment for electrocardiography, chest X-ray, heart ultrasound, stress test, 24 hour blood pressure Holter, etc., will help you to gain accurate, useful information about your heart.
Treatment of cardiovascular diseases is a long-winded and complex process that involves many stages and is reliant upon many factors, conditions, stages of illness, etc. Therefore, understanding the anxiety of patients and the family, we have designed special examination and screening packages for each patient with the main objective is to bring practical, reasonable and cost-effective benefits, bringing the most effective treatment process.
SERVICES
We focus on diagnose early cardiology abnormalities in order to consult you the best treatment and to monitor common CVDs including: Hypertension, Coronary artery disease (before and after stent placement), Cardiomyopathy, Heart failure, Arrhythmia, Congenital heart disease, etc.
Cardiology Department at CarePlus is chosen to be your trusted healthcare partner as our highlights:
Diagnose a disease correctly and minimize the use of prescribed medicines.

Consult intensively to help patients understand clearly their diseases to actively coparticiapates in the treatment plan.

In case of emergency, we can support in counseling and contacting with top hospitals in HCMC such as: 115 People's Hospital, Ho Chi Minh City Heart Institute, HCMC Medicine and Pharmacy University Hospital, etc., to give you the most covenient impatient treatment.
MODERN EQUIPMENT
CarePlus is also equipped with new generation specialized cardiology equipment for the purpose of diagnose early CVDs, such as: Holter ECG Bittium Farros, Ecg Stress test, Color Doppler Echocardiography and many others.
ECG Stresst test: an intensive method which is reccomended by experts to diagnose early coronary artery disease, heart valve disease and heart failure, coronary insufficiency, fainting, palpitations.
Holter ECG Bittium Farros: leaflet ECG
Our Heart Screening Package helps detect risk factors:
Diabetes Mellitus

Dyslipidemia (high cholesterol or fat in blood)

Smoking

Males and females of more than 60 years old

Menopausal women

Sedentary activity

Family history of heart diseases