​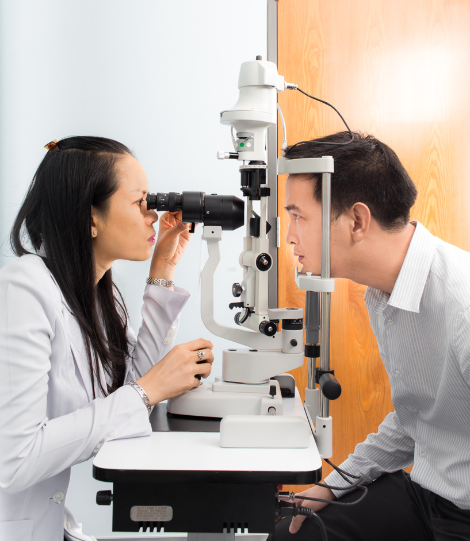 Ageing naturally leads to many eye problems, but children and young adults are also vulnerable to eye related issues that need the attention of a great specialist.
Besides the recommended regular Vision Check-up and the popular Glass Prescriptions for study and working overseas, our eye specialists can perform various eye diagnostics, providing specialised treatments for each patient so you can have a peace of mind about your eyes' health:
Intensive care and effective treatment of ophthalmic diseases in the front biosphere:
1. Refractive diseases:
Short-sighted, far-sighted, astigmatism and elderly eyesight problems

Refractometers – with precision and extensive consultation on the treatment of refractive irregularities of the eye

Making contact lenses for refractive errors
2. Effective treatment of corneal surface diseases:
Dry eye

Acute or chronic conjunctivitis

Tearing lacrimation

Infections, red eyes
3. Coordination with endocrinology for effective treatments of diabetic retinopathy for patients with (or at risk of) diabetes & hypertension
4. Diagnosis, monitoring and follow up before / after effective treatment of cases of cataracts – glaucoma and dry cataracts – cataracts
In addition, our ophthalmologists also have the ability to perform many procedures such as:
Remove of cornea abnormalities, the shallow or deep conjunctiva

Crook incision

Lash squeezing

Tearing lacrimation cleaning

Lime removal

Eyes' hair removal
With modern equipment and experienced specialists, CarePlus is the trusted choice for your bright and healthy eyes!