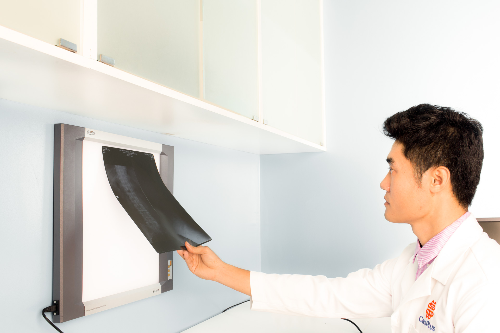 The Department of Imaging Diagnostics includes a team of experienced, evidence medicine practiced physicians and doctors to provide the best diagnostic and treatment results for patients. We are committed to providing the best diagnostic imaging services with efficiency, hygiene, radiation safety and image quality.
1. Ultrasound
CarePlus international clinics perform ultrasound services at the Department of Imaging Diagnostics on ultrasound machines of the latest generation, ensuring the image quality is always at the sharpest level to serve in diagnosis.
Our ultrasound services include:
Thyroid Doppler ultrasonography (including lymph nodes)

Neck ultrasound: examining the parotid gland, lower jaw

Breast Doppler ultrasonography

Chest ultrasound

Soft tissue ultrasound: parotid glands, auxiliaries

Heart Doppler ultrasonography

Peripheral intraepithelial Doppler ultrasonography

Ultrasonography of arteries, upper limbs, lower limbs

Ultrasonography of extracranial internal carotid artery

Abdomen ultrasonography: examining liver, spleen, bile, kidney, pancreas, bladder, uterus, ovaries, prostate

Ultrasound of abdomen, genitals for the abnormalities in children

Renal artery ultrasound

Ultrasound for esophageal reflux in children

Ultrasound of pelvis, groin, scrotum, testicles

Ultrasound of joint and soft tissue

Wrist ultrasound

Gynecological ultrasound

Pregnancy ultrasound in first, second and third trimesters
2. X-Ray
Digital Radiographic X-ray (DR), the time taken for a patient is several times faster than conventional X-rays, reducing the radiation time, protecting your vital organs from being radiation contaminated, especially in complicated x-rays with lungs, sinuses, skulls, spine, bones and mammograms to detect cancer at the early stage.