The stage from 1 to 6 years old is a milestone that marks the child's entry into kindergarten and elementary school. You must be very worried when you take your child to school with many unfamiliar things. Among them, health preparation is necessary for the child to learn confidently and for the parents to be more assured!
Children's immunity from 1 to 6 years old is still relatively immature. Therefore, the first time they go to school, they are very susceptible to diseases in the collective environment. Besides, the back-to-school season is also a time of erratic sunny and rainy weather, so conditions such as dengue fever, superinfection, flu, hand-foot-mouth disease are breaking out and are the top concern.
Therefore, general health check-ups for children of this age range are highly recommended. This helps parents understand their children's physical development and health situation as well as prepare for them a solid immune foundation.
This August, prepare your kids for a healthy and happy back-to-school with CarePlus: with every package of GENERAL PEDIATRIC EXAMINATION for kids from 1-6 years old, you will get:
🎁 A free Dental check or Dental filling after completing the general health package (*)
⏰ From August 15 - September 30, 2023
GENERAL HEALTH EXAMINATION PACKAGE FOR CHILDREN 1-6 YEARS OLD, including the following items:
General pediatric examination: Assess the overall development of the child. Identify health problems (if any) based on test results and ultrasound; advise parents on appropriate intervention and treatment.
General abdominal ultrasound: To check the main organs in the abdominal cavity, including the gallbladder, kidney, liver, pancreas, and spleen. Early detection of liver disease, kidney stones, gallstones, inflammatory
conditions such as appendicitis and pancreatitis, and abdominal distension such as tumors, hernias, and cancer.
Blood count test: Early detection of blood diseases such as anemia, bone marrow failure, leukemia,...
Ferritin test:
Assess iron levels in the body
ADVANTAGES OF THE EXAMINATION PACKAGE:
Monitoring the child's development helps parents understand whether their child is developing according to the age standard. Is the child malnourished or overweight? In addition, general health check-ups for children also help to assess comprehensively, both physical and mental, the language, communication, and social development of the child.
Help screen for congenital, hereditary diseases and prevent dangerous infectious diseases
Answer the concerns of parents about the child's condition, and then give appropriate advice and solutions
The doctors at CarePlus understand the psychology of children during the examination and will help them feel gentle and comfortable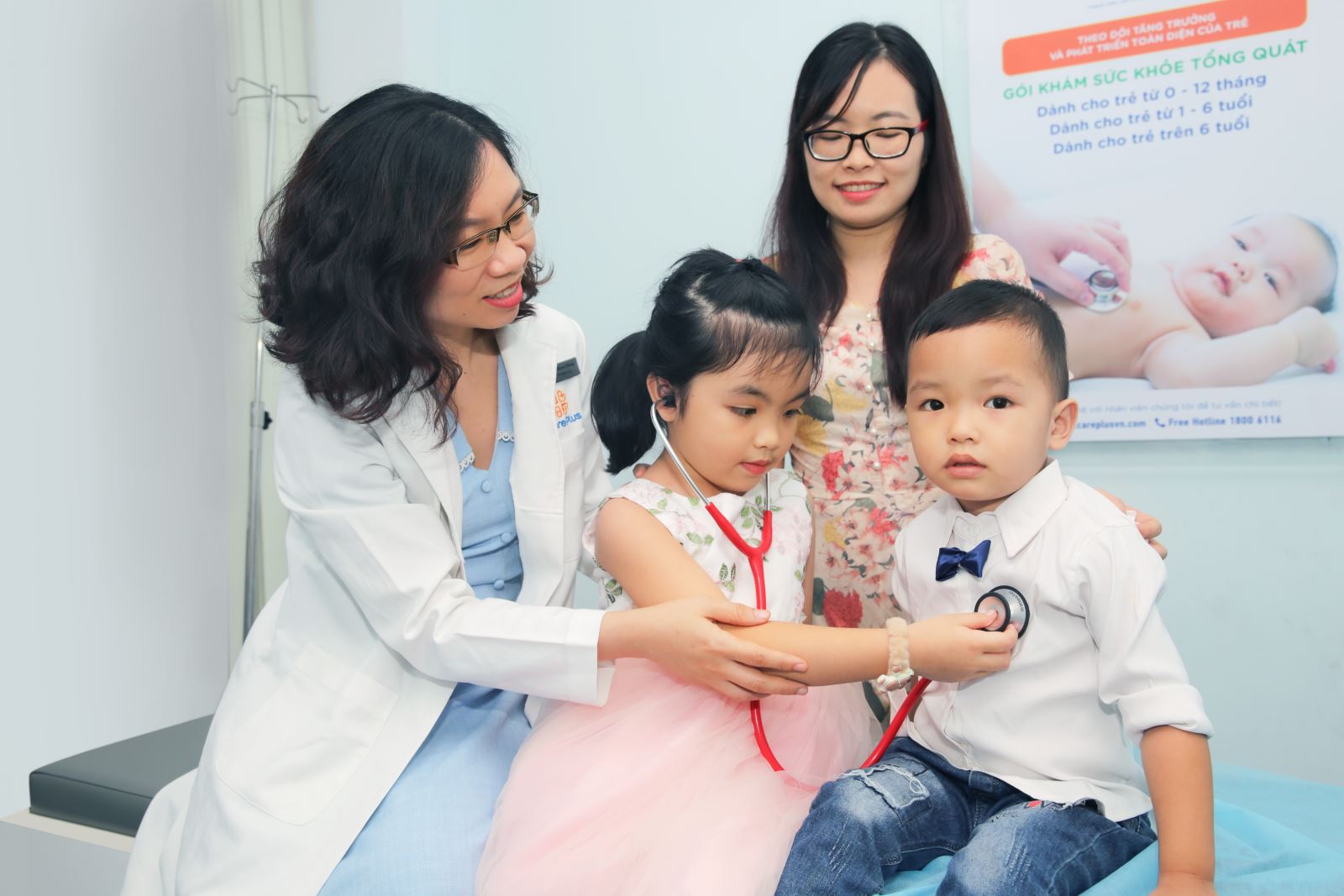 (*): Use immediately or get a voucher