To meet the needs of customers who require in-depth health care, consultation with experts on dangerous diseases by a team of experts rớm South Korea and Vietnam.
The ceremony ended successfully with the signing of the representatives of both parties. Representing CHA Medical Group was Dr. Kim Young-Tak, Chairman of CHA Global Medical Center - Director of CHA Gynecology Center - Chairman of Asia Pacific Gynecologic Oncology Society. On behalf of CarePlus, there were Mr. Thiam Kon Lim, Chairman of CityClinic Asia Investments, and Mr. Attila Vajda CEO of CarePlus Clinic System.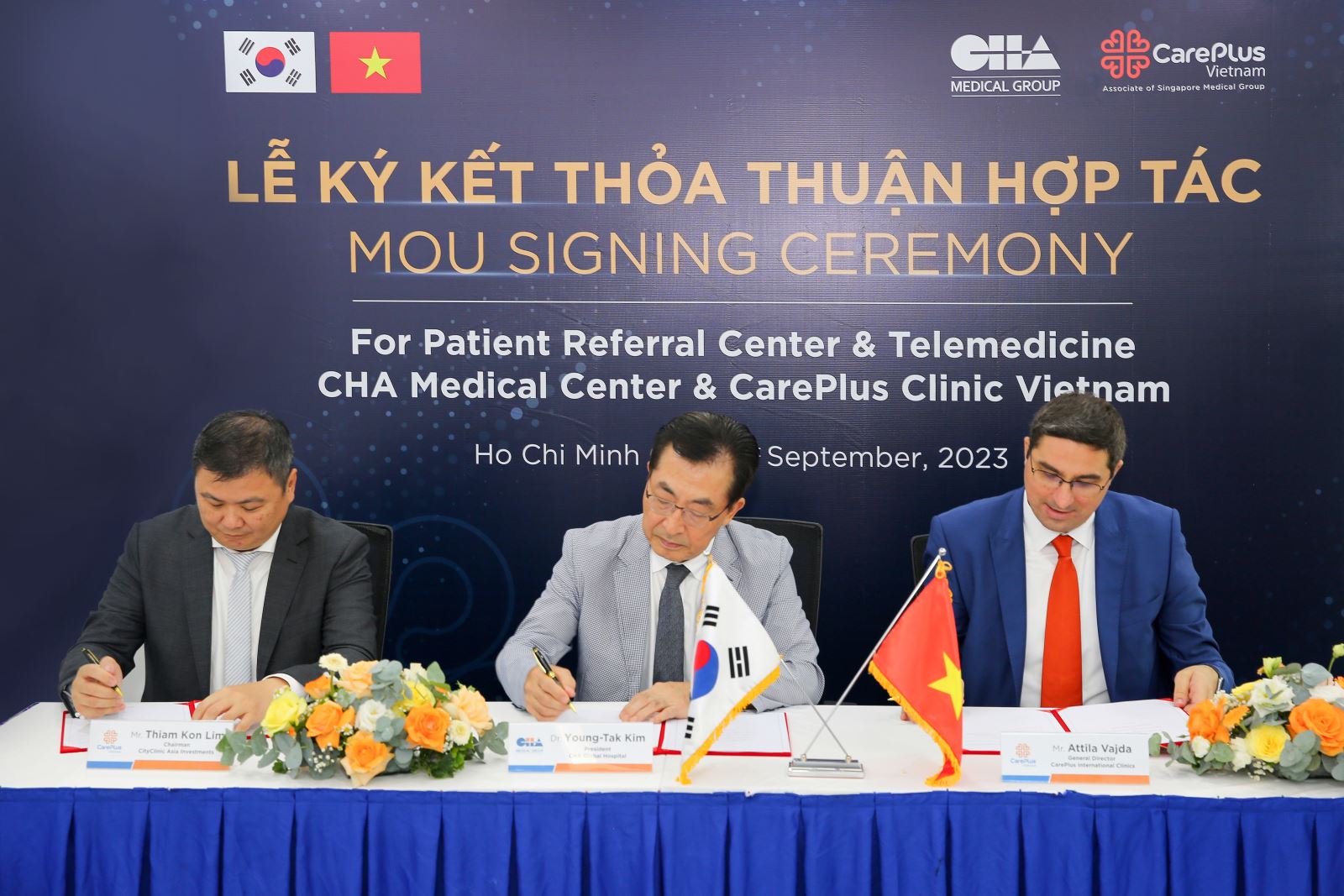 At the beginning of the ceremony, Mr. Attila Vajda shared the purpose of helping the two sides to connect comprehensively with each other in the spirit of bringing the highest benefits to customers who need medical consultation for dangerous diseases such as cancer, cardiovascular disease, and many other diseases, from experts from Korea. He affirmed "Going hand in hand with our strategic partner CHA Medical Group, which owns advanced medical technologies and treatment methods, will help a lot in supporting and caring for patients at CarePlus Clinic".
Representing CHA Medical Group, Dr. Kim Young-Tak said: "CHA Medical Group will do its best to ensure the convenience of providing medical treatment and health diagnosis services for people who want to visit directly at CHA Medical Centers or consult medical opinions from Vietnam under the connection from CarePlus Clinic System. Today's ceremony marks a milestone in the important cooperation relationship for the two sides to accompany and develop."
At the same time, the two sides also hope to establish exchange and training programs for doctors, including forms such as: joint seminars and training classes to improve expertise, bringing many good values to the community.
And in order to initially concretize the goals in the content of this cooperation, CarePlus Clinic System and CHA Medical Group jointly organized the Seminar "Prevention and Screening of Gynecological Cancer and Treatment of Gynecological Cancer by Minimally Invasive Surgery" and attracted a large number of guests to participate.
At the seminar, Dr. Kim Young - Tak shared passionately with the guests attending the seminar the knowledge about prevention and screening of gynecological diseases and gave advice on regular screening to prevent cancer from an early stage through cervical cancer screening tests. The highlight of the seminar was the minimally invasive surgery method in treating gynecological cancer in young women. This is an advanced method that helps protect reproductive ability more effectively than traditional methods of cutting the entire uterus, and has received special attention from the guests. Here, many questions were raised and discussed lively at the seminar.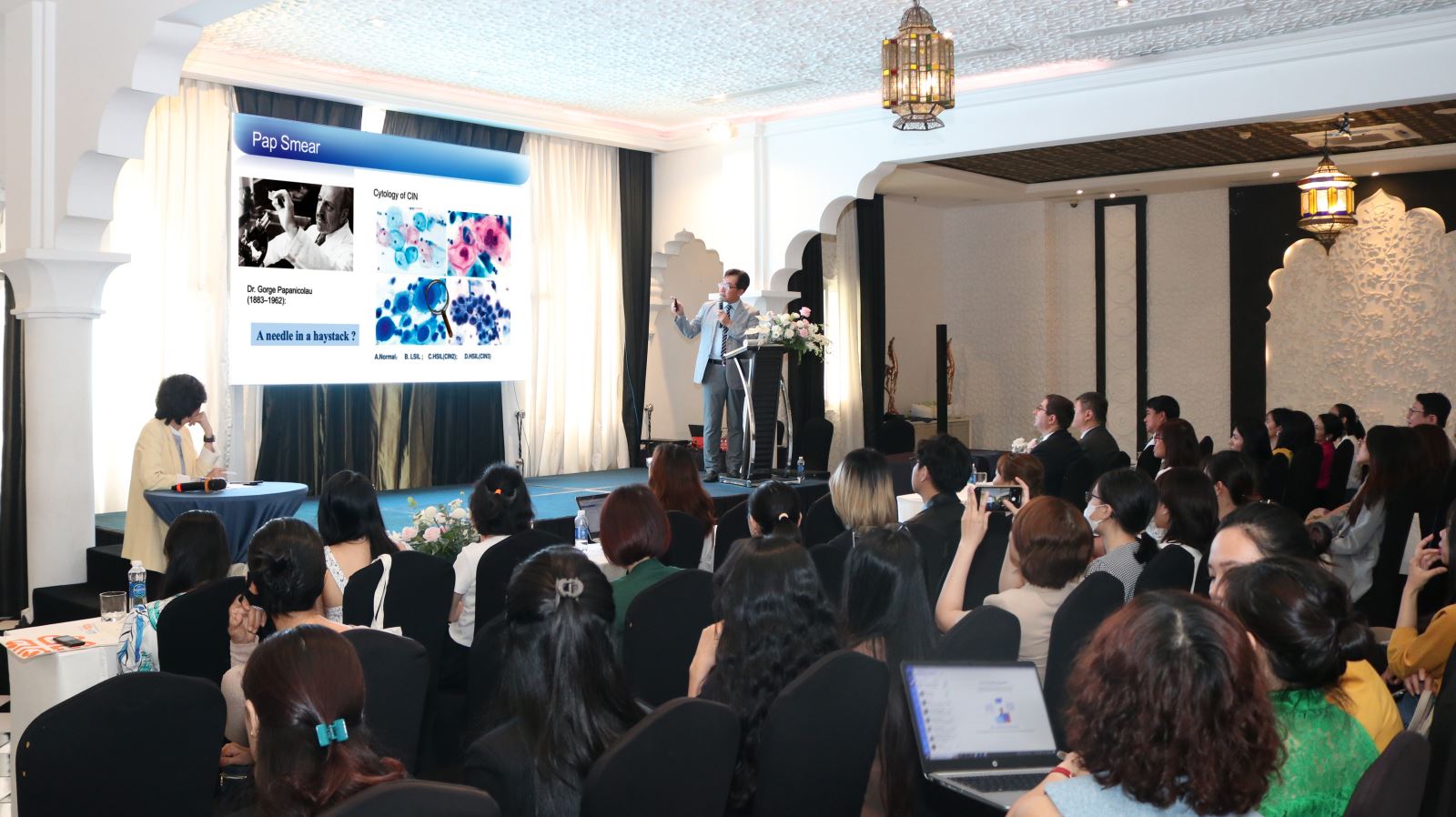 Dr. Kim Young - Tak stated: "Radical trachelectomy by endoscopic or robotic methods has replaced traditional vaginal or open surgery in recent years, and is recommended for early-stage cervical cancer cases in young women with fewer complications and positive clinical outcomes."
As a health care unit that is always aware of its great responsibility not only to patients but also to the community, CarePlus strives constantly to improve the excellent experience for customers. Through coordinating to organize many meaningful activities in the form of seminars, training classes to raise awareness of disease prevention and be a bridge between customers, patients and experts in accordance with the criteria of the content of cooperation.
For more information on our healthcare services, please visit www.careplusvn.com or at Free Hotline 1800 6116.
CarePlus Clinics Vietnam, is also an associate and partner of Singapore Medical Group (SMG), and it has many years of experience in the field of outpatient health care in more than 10 specialties at 3 clinics in Ho Chi Minh, serving more than 200,000 customers each year.

In September 2022, CarePlus was honored to receive the Asia Pacific Enterprise Award (APEA) 2022 in the category "Excellent Enterprise". This is the Grand Award in the Asia Region, awarded by Enterprise Asia, the leading non-governmental organization recognizing business excellence.
Source: Thanhnien